Photos
*Note: If using a mobile device turn your phone to landscape mode to see full descriptions
December 2018
The First Steps team confirming the arrival of 7.2 million sachets of micronutrient Sprinkles.
Dr. Kim Sun-Man, director of the Shinmi Policlinic, standing with his wife Mrs. Ri Yon-Ok and their four-year-old grand-daughter Na-Rye.
Dr. Kim told us that fewer children are falling ill since receiving Sprinkles.
Mrs. O Mi-Yang and her one-year-old daughter Bok-Ryon outside the Shinmi Policlinic.
Since taking Sprinkles, Bok-Ryon has gained weight and has grown taller.
At the Wonsan Secondary Boarding School (orphanage), children receive 300 ml of soymilk per day.
The children told us that soymilk tastes good, improves their concentration and makes their skin brighter.
A class of nine-year-old students at the Wonsan Primary Boarding School (orphanage) are all smiles as they get ready for an outdoor exercise session.
Drinking soymilk every day helps the children grow taller, healthier and have energy throughout the day.
At the Wonsan Weekly Daycare, children aged six months to four years old receive freshly prepared soymilk on a daily basis.
"The children like the soymilk and drink it well," said Choe Kyong-Ok, who oversees the inventory and supply of soymilk at the daycare.
Sprinkles – the pink sachets in baby Kuk-Bin's hands – are a micronutrient powder that prevents mineral and vitamin deficiencies in pregnant women, nursing mothers and young children.
A poster on the wall of the Naewonsan Policlinic explains how Sprinkles benefit expectant and new mothers.
At the Jangbaek Policlinic in Munchon, we met Mrs. Jong Hyang-Suk and her nine-month-old daughter Jong-Yong.
Jong-Yong has been taking Sprinkles since she was seven months old. Mrs. Jong divides each sachet into three servings throughout the day.
Dr. Kim, a general practitioner and ob-gyn at the Hyean Policlinic in Munchon, shared how Sprinkles cured her anemia and has improved her son's immunity.
She added that the women in the area now know about Sprinkles and seek them out at the clinic.
"When the children drink soymilk, their skin improves. They are really excited for soymilk time." - Director U Bok-Song of the Rosang-Ri #1 Daycare in Tongchon.
Only 40% of the children at the Rosang-Ri #1 Daycare meet the national standard height.
A cup of soymilk a day helps them grow!
The children at the Rosang-Ri #1 Daycare slurp up their soymilk quietly and contentedly.
First Steps also helps to provide our local partners with stainless steel soymilk cans.
These are a safe and hygienic way to deliver soymilk as they prevent the growth of bacteria and reduce product spillage.
Stainless steel soymilk cans are delivered to daycares, kindergartens and orphanages daily.
At the Ryongsu Daycare in Nampo, soymilk is served once the stainless steel soymilk cans arrive.
100 children aged between one to 10 years old attend the Ryongsu Daycare.
During our visit in December, the First Steps team returned to Dokchon.
Children who are three years old and below receive 100-150 ml of soymilk daily, while children who are four years old and above receive 200 ml of soymilk.
The team visited the Dokchon Foodstuff Factory, which aims to supply a daily cup of soymilk to 20,000 children in daycares, kindergartens and orphanages in the county.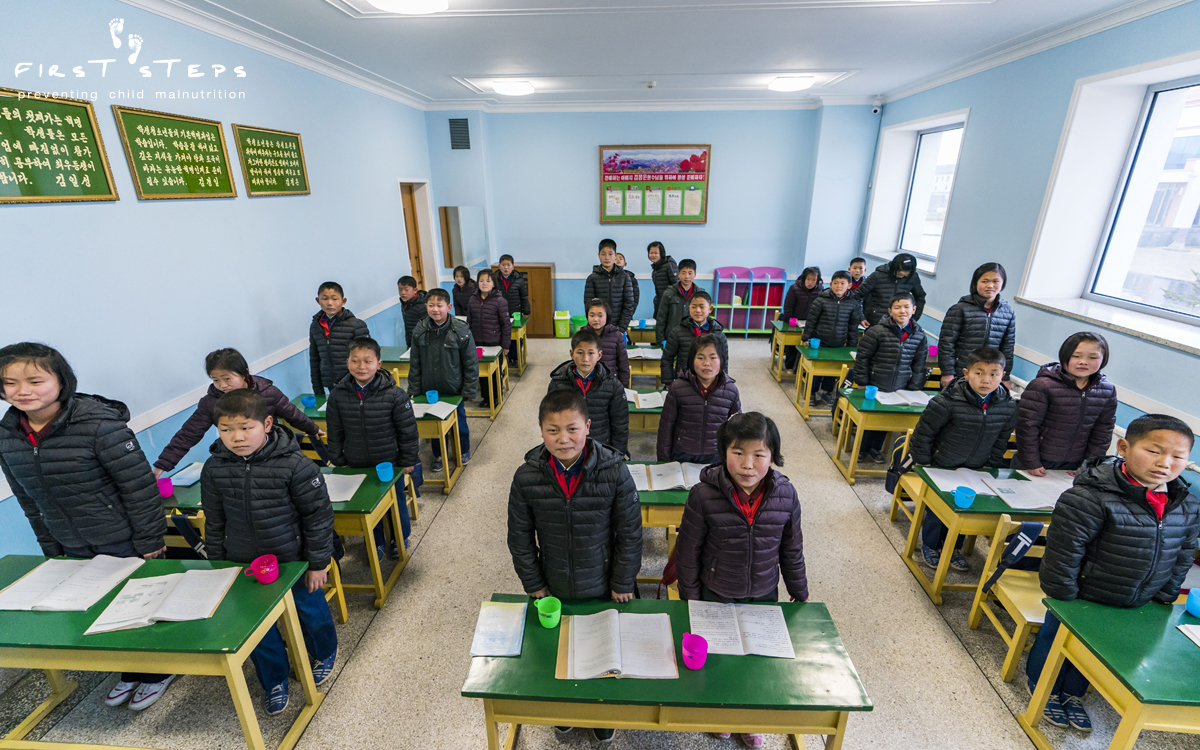 In March, the First Steps team visited a class of 14 year olds at the Wonsan Secondary Boarding School (orphanage).
The students, who would be in grade 9 in Canada, were studying for their final exams.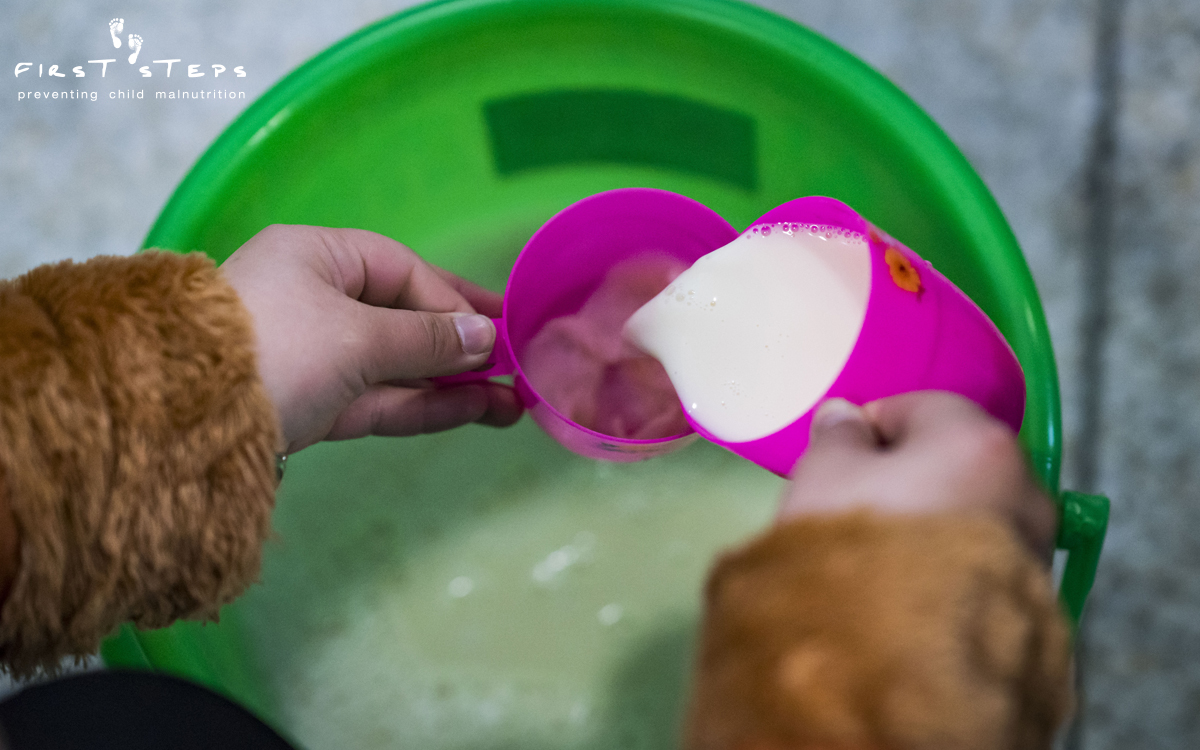 The Wonsan orphanage is one of First Steps' beneficiary schools.
At 9:30 am each day the students have a break and enjoy fresh nutritious soymilk, which is made at the local Bongchun Children's Foodstuff Factory.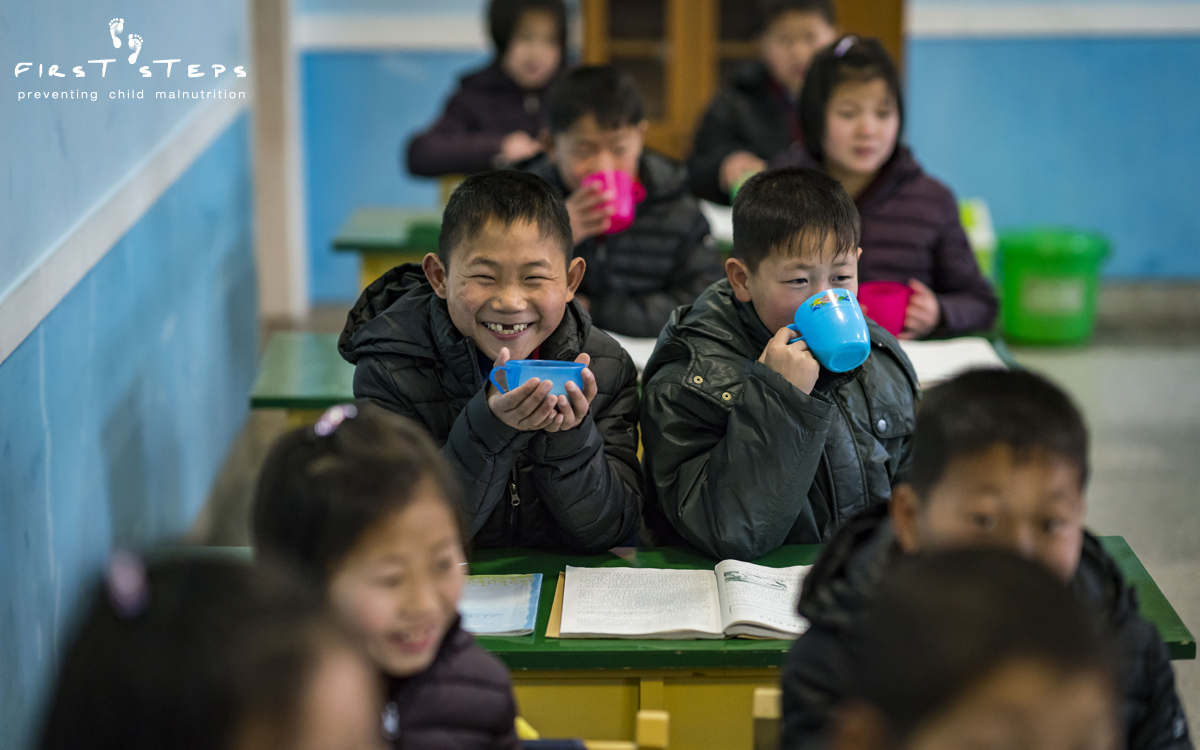 At the boarding school, there are smiles all around during the morning soymilk break.
Good nutrition means children are not hungry and can concentrate more fully on their studies.
The students are wearing their jackets in the classroom because the rooms are unheated, another consequence of ongoing sanctions.
None of this stops the children from having some fun with each other!
While talking to the students, we learned that 14-year-old Jung Myong-Bom likes to draw so we asked him if he could draw us a picture.
Jung Myong-Bom's drawing, on the back of an envelope we gave him, depicted the Wonsan Boarding School and a soymilk delivery truck.
A mother and her son arriving to the Yangji Daycare in Wonsan, Kangwon Province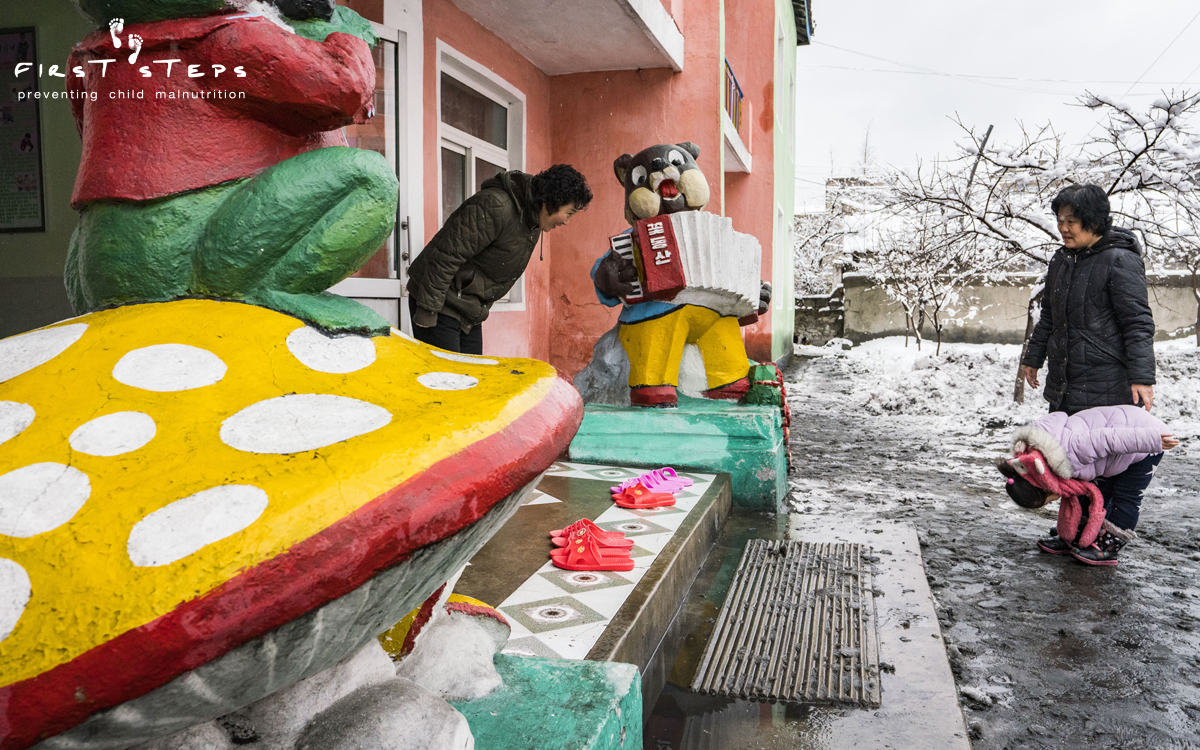 A polite morning greeting at the Yangji Daycare.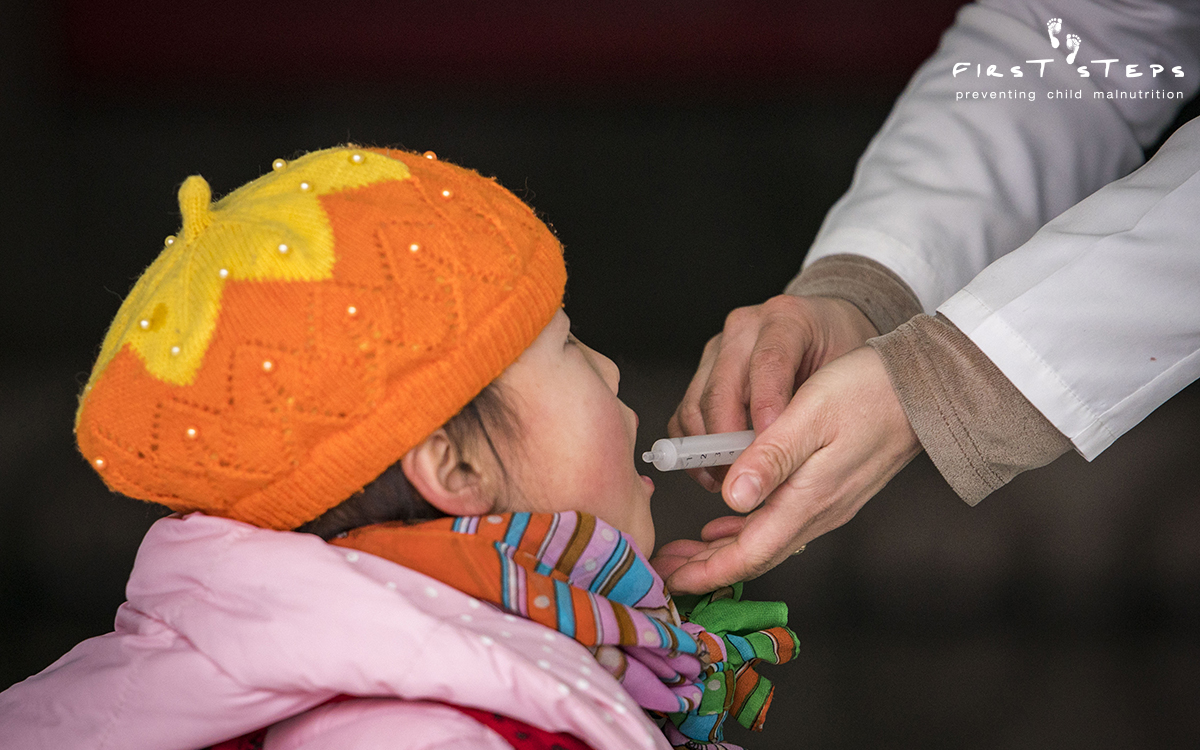 Every child at the Yangji Daycare receives a morning shot of garlic.
Loving hands serve up soymilk at the Yangji Daycare.
Careful sips of warm nutritious soymilk at the Yangji Daycare.
Children look through the window at the Yangji Daycare.
While in Wonsan, the team also visited the Poha Kindergarten. Teacher Hwang Hye-Sun explained that the children will be going to grade one in April.
In North Korea, children begin kindergarten at age five and attend for two years before going to elementary school.
Each of the 250 children attending the Poha Kindergarten receive a morning cup of soymilk.
Teachers in many of the schools we visit comment on the impact that this nutrition break has on their students: they have more energy, do not complain of hunger and can concentrate better.
"We are full of thanks when we think of those that are giving on behalf of our children." - Director Ri Hui-Ok of the Poha Kindergarten
Tongchon is a small farming community south of Wonsan.
First Steps sends soybeans to the local Tongchon Foodstuff Factory to help ensure the daycare and kindergarten children in this area receive soymilk.
At the Pungsan Kindergarten in Tongchon the children were curious to see who had come to visit.
Only 58% of the children here meet the national standard height for their age. The cup of soymilk is an important part of their daily diet.
As soon as the teachers clapped their hands and said it was naptime, the children did not dillydally.
They gathered their pillows and laid down without complaint!
First Steps has been working in Munchon to provide micronutrient Sprinkles to mothers and their babies since 2016.
Sprinkles are added to food and are proven to prevent vitamin and mineral deficiencies in pregnant women and children. At the Jangbaek Clinic director Jun Hyang-Hwa explains about Sprinkles to mother Ho Gum-Ran. Mrs.Ho's baby (cuddled on her back) is nine-months-old and will receive Sprinkles.
Micronutrient Sprinkles were developed at Toronto's Hospital for Sick Children in 1996 to fight micronutrient deficiencies.
They make a big difference to those who receive them. Mrs. Yun said that she became stronger after taking Sprinkles during her pregnancy. We met her when she came to the Jangbaek Clinic in Munchon to pick up Sprinkles for her 12-month-old daughter Jung Yo-Jong. When mothers pick up Sprinkles, they also receive an informational brochure explaining the benefits of Sprinkles.
A Sprinkles sachet contains a multi-micronutrient formula that prevents anemia, rickets and other diseases.
We met Choe Sung-Mi when she came to the Hyean Clinic in Munchon to receive Sprinkles for her six-month-old daughter Han Ryo-Rim. Mrs. Choe was anemic when she was pregnant. She shared that after receiving Sprinkles her anemia and skin both improved.
The Nampo Foodstuff Factory supplies soymilk to nearly 14,000 children in daycares, kindergartens and orphanages.
The soybeans are soaked and then ground up before being cooked into soymilk.
The Nampo Foodstuff Factory uses energy-efficient First Steps' VitaCows to make the soymilk each day.
The VitaCow is powered by electricity and can produce 40 -45 litres of soymilk per hour. In this photo the cooked soymilk pours into a stainless-steel milkcan.
One of the beneficiaries of the soymilk produced at the Nampo Foodstuff Factory is the Nampo Kindergarten Orphanage. The children enjoy their soymilk - right to the very last drop!
Cleaning up after finishing the day's soymilk production at the Hanggu Daycare and Kindergarten Supply Centre in Nampo.
The centre uses both the VitaCow, which runs on electricity and the VitaGoat, which runs on biomass fuels (such as coal, wood or dried corn cobs.) Mr. Yon (left) told us that the VitaCow and VitaGoat machines that First Steps sent work well and produce good soymilk.
Consistent provision of nutritious soymilk is important for the children who receive it.
"The children love the soymilk. It's good for their health and good that they get it every day." - Director Han Nam-Suk of the Hanggu Daycare and Kindergarten Supply Centre in Nampo
Mr. Yon with his soymilk delivery bike in front of the Hanggu Daycare and Kindergarten Supply Centre in Nampo
Before drinking their soymilk the children at the Sopo #2 Mobom Daycare in Hyongjesan sing and dance to the soymilk song.
Due to a lack of electricity, the workers at the Sopo #2 Mobom Daycare must grind soybeans by hand to make the soymilk for the children
"Thank you so much for sending the beans to help the children grow. Thank you a lot. It ensures they get the protein they need." - Director Ri at the Sopo #2 Mobom Daycare
Whispers and giggles at the Sopo #1 Kindergarten in Hyongjesan
Doctors, mothers and children at the Shinmi clinic were excited to be receiving First Steps Sprinkles for the first time. One doctor said, "I don't know how to express my thanks."
Bak Hyang-Mi and her seven-month old son Kim Won-Ung. Won-Ung will receive Sprinkles until he is two years old.
Choe Yun-Mi reads an informational brochure on micronutrient Sprinkles at the Shinmi Clinic.
Choe Yun-Mi stands with her two-month-old son Kim Ui-Ryong.
Patients sitting outside the Shinmi Clinic.
Four-year-old Shin Na-Re and her grandma, Ri Yon-Ok were two of the happy faces greeting us outside when we arrived at the Shinmi Clinic.
Robert Ross and Susan Ritchie at Mt. Baekdu